Both Ted Harbit's
Stude Tomato
and George Krem's
Plain Brown Wrapper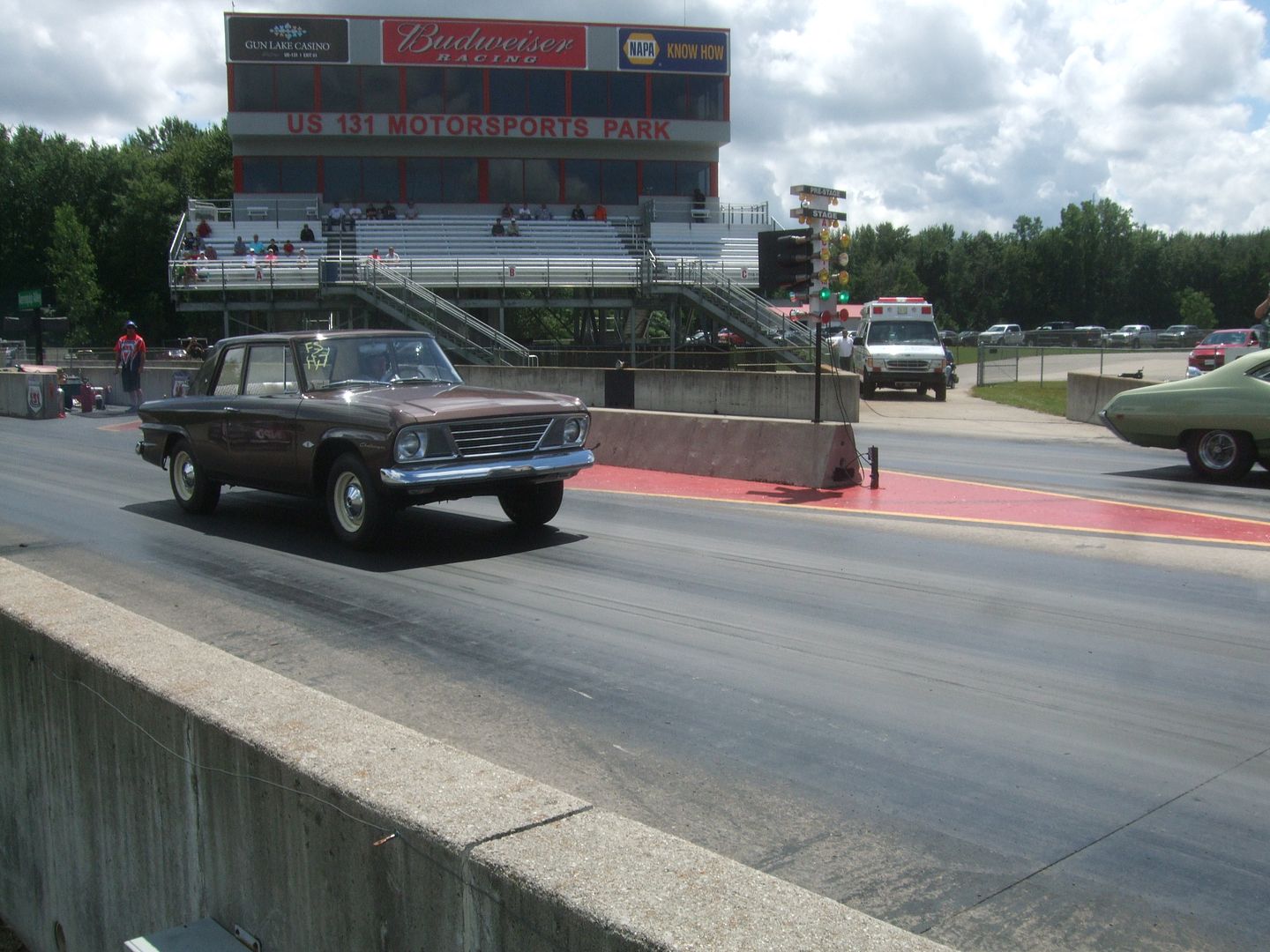 represented Studebaker favorably at the June 23/24 2017 F.A.S.T. (
F
actory
A
ppearing
S
treet
T
ires) Drag Race event at U.S.131 Motorsports Park in Martin (southwestern) Michigan.
Ted drove his Stude car hauler truck with The Tomato on back and George drove my truck and trailer hauling The Plain Brown Wrapper. I wanted to attend the Packard Automobile Classics National Meet Car Show in Mishawaka Friday the 23rd, so I drove George's new Focus up to that event and then headed over to Martin late in the day Friday to join Ted and George, stay overnight with them, hang out for the shootouts Saturday, and then drive the Plain Brown Wrapper (on the trailer behind my truck!) back to Ted's at the end of the day Saturday. It all worked out well.
This was the first race for the new 4.27:1 gearset in The Wrapper's differential, and the first race for new reproduction tires on both cars. Ted was running the new Firestone bias-belt repros and George was running a set of the new-design radials that look like bias-ply tires.
The idea behind the 4.27 gears replacing the 4.56s was to reduce engine RPMs at the top end, where blower belt slippage has been an ongoing problem. Here are George's words regarding the Wrapper's performance:
Best run on Friday: 13.1770
Best speed on Fri. : 110.38 All against a stiff wind.

Shootout run #2: 12.6875 @ 107.53 (Ted let off early since he was ahead, or the Wrapper may have set a new ET record for itself)
Shootout run #3: 12.6614 @ 112.08

Almost all our runs both days were against a brisk wind. Dan Jensen [September's Pure Stock Muscle Car Drag Race co-promoter] told me that most racers felt the wind cost them 2 tenths of a second and about 2 mph.

The new tires on the Wrapper finally improved by shootout time for two reasons, I think: First, we finally got the pressures where the new tires liked them, and second, they needed some spinning to wear off the high spots. Dave Hemker [Buick drag racer] said that some people feel that the new reproduction tires have a coating that penetrates the tread, and that it takes a certain amount of spinning to get rid of that stuff.

The reproduction F-70s seem to like higher pressures (some run 40+ lbs), but we found that the new radial FR-70s on the Wrapper work best at a lower pressure. I finally got it down to 23 left and 22 right, having first tried pressures as high as 40 lbs. I'll probably go lower yet with them to see what happens.

Finally, for the shootouts we tried more total spark advance than usual on the Wrapper, and it really seemed to run better. We normally run 34-35 degrees, and we bumped it up to 38
.
Here's the Wrapper running a 1971 Hornet SC360 during practice Saturday morning. There were three Hornet SC360s there; two running consistently in the high 13s and one in the high 12s. Go figure.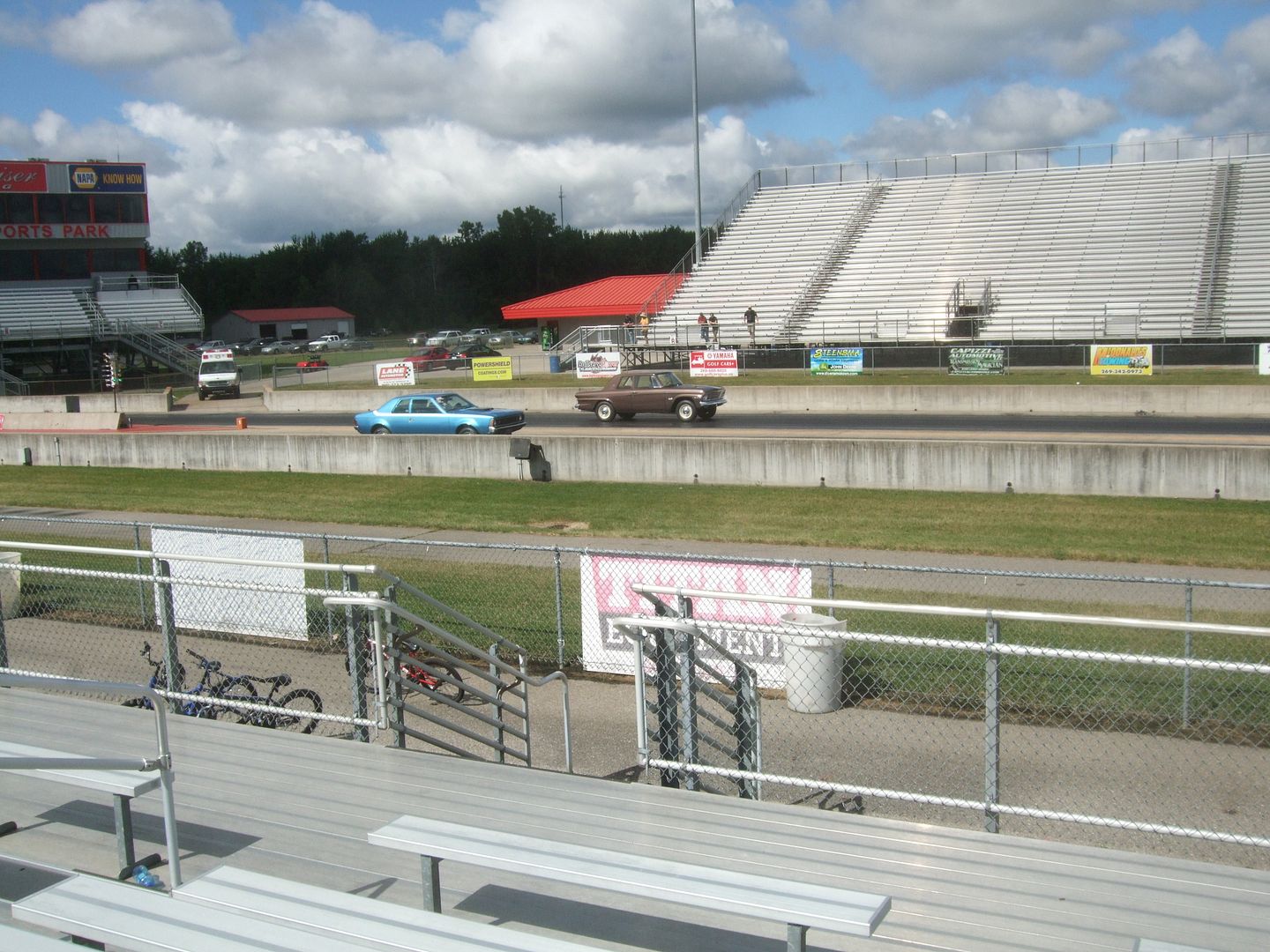 The 'Wrapper drew Tom Miller's 1969 Buick Special DeLuxe 2-door sedan for the shootouts. It runs really well in the low 13s with 280 HP 350 engine. Tom has it set up real well and is a good driver. Ted got a horrible launch in Shootout Round One and backed out of it, handing Tom and his Buick the Round One victory. Ted and the 'Wrapper came back strong and won both Rounds Two and Three, however, thus winning the 'Wrapper's shootout.
To save time reporting, here's what Ted had to say about the event in general and The Tomato's performance:
"Martin" is a beautiful strip with LOTS of room. The weather was wet Friday until about 1:00. Saturday was good except for a slight head wind most of the day.

I'm guessing there were about 12 F.A.S.T. cars and maybe 80 Factory Stock cars. It is put on by the FAST people but they invite us [the Factory Stock / Pure Stock cars] to help pay the bills for track rental, etc.

George bought a set of the new Coker radial tires for his '64 Challenger and I bought a set of used, but ran very little bias Coker tires for my '63 Lark.

We were running the Firestone Indy radials for years. We found over the years that if we bogged on the launch it was really bad but if we come off hard enough to spin rather than bog it still hurts ETs but not as bad as bogging.

We were told the bias tires need to be really burned in a burnout but the radials just need to be cleaned once and go to the line.

Well, on Friday qualifying for Saturday's shootout, it was really bad. We could not get any traction at all. The best 60-foot for The Tomato was 2.3557 and ran all the way up to 2.7645! I don't have George's times but they were similar.

The Tomato's best qualifying time was 13.6182 but at 110.13 mph.

The Challenger's qualifying time was 13.17 at 110.XXX also.

Saturday morning I ran The Tomato through three time trials with a best 60' at 2.2408 at 13.3207 at 112.22. On this run, I had installed a new supercharger belt. It really seemed to help and started trying the opposite of letting the car bog as little as possible and this helped. ??

'Don't have any figures for The 'Wrapper but it was better also; however, to be honest everyone was running better on Saturday than they had on Friday.

In the shoot out, The Tomato drew a 1968 Plymouth GTX with single-4bbl 440. First run I was too anxious and ended up spinning bad with a worst 60' of the two days at 2.8644 and turned 14.0944 at 105.73.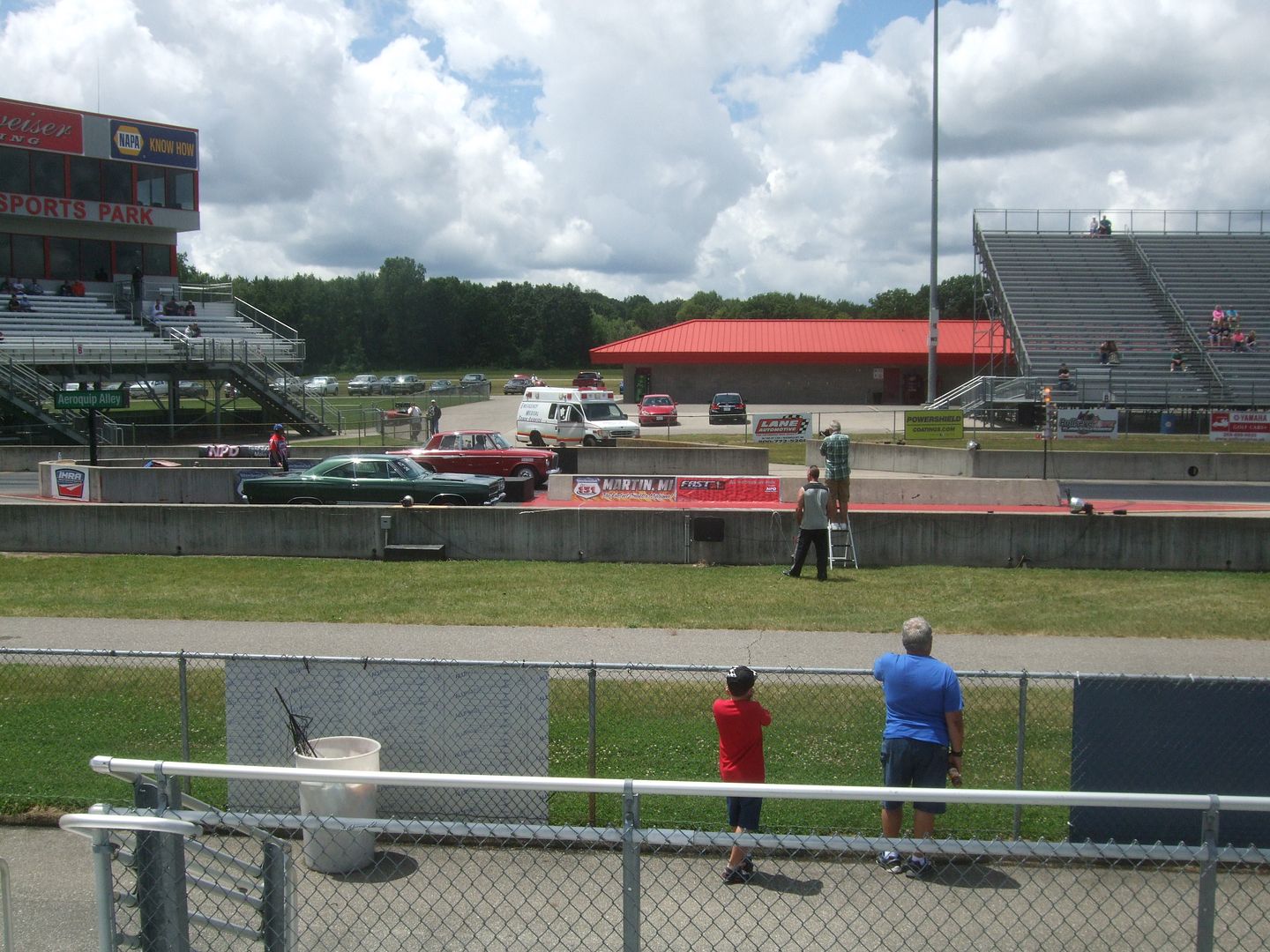 First shootout for the Challenger was against Tom Miller's 1969 Buick Special 2-door. Anyway about the same story, got beat.

So we were down one run on both cars after the first round.

Decided I was NOT going to spin on the second round.

The Tomato won the second round with a 2.3235 60' and 13.4772 at 105.19 so let off about 4 or 5 mph from what it would have been.

The 'Wrapper also won its second round with a best 60' time of 2.09 but out of the blue came an ET of 12.68 and let off as only turned 107.XXX at the end. Cannot explain that.

The Tomato won the third round with 60' of 2.2749 and ET of 14.0809 at 107.81. Reason was the Plymouth's driver had a poor light (reaction time).

On the third round for the Challenger, George said to not let off and see what it would turn. We won the round with an average 60' and the ET was 12.66; only a little better than the 12.68 on the previous run. And it posted 112.XX speed.

So a frustrating Friday turned out pretty good on Saturday for us. As I told George, I would rather be lucky than good any day.

I talked to the track people that put the race on about Richard Poe bringing his '64 Challenger 344" car. I told them he doesn't have a hood on it and some of the other things about it like the tunnel ram intake, Demon carb, headers, five speed, etc. as sure didn't want him to go all that way and then not let him run.

They were very receptive to the idea and should be a good show to see him run against new Camaros, Mustangs, Mopars, etc. I watched some of them run and the "Green Car" should be very competitive with most of them.and they said he could and they might put him in the MM class which stands for Modern Muscle Cars or they would find someplace for him to race.

Hope you enjoyed the article. Bob Palma will probably post on The SDC Forum and Racing Studebaker site when he gets time.

Our next race will be at Byron, Illinois on the weekend of July 14th for the Meltdown Drags. This is limited to 1966 and older cars and no newer items allowed even going down to wheels, turbos, etc. There will be around 550 cars in attendance racing. 'Hope to see many of you there. Bob Palma and I will be attending with The Stude Tomato. TH
Thanks, Ted and George.
I join Ted inviting everyone to
The Meltdown Drags
in Byron IL July 14 and 15. There's nothing like it!
BP