Here's a brief report and a few photos from
The 2017 Pure Stock Muscle Car Drag Race
. As usual, we'll have an expanded report and more photos in an up-coming
Turning Wheels
. This report is necessarily brief because, as many of you know, my Dad (age 100 years and 4 months!) passed away only 6 days before I was to leave for The 2017 Pure Stock Drags. We managed to get the funeral planned and executed with a day or two to spare, but I've got many details on which to now work, so this will be shorter than usual.
Which might be so much the better in that, as the man said,
"We've had better years [at The Pure Stock Drags]!"
Seven Studebakers were in competition but only four of them were able to finish competing in Saturday's shootouts due to an unusually-high number of mechanical issues. Of the six Studes that entered the shootouts, four of them won their shootouts and two DNF their shootouts.
Peter Sant's
R2 Avanti developed a coolant leak between the left head and the water pump manifold's left lower outlet Saturday morning. Peter has added air conditioning to his R2, so the idea of "R&R-ing" his car's water pump manifold is not something that can be accomplished in 30 minutes! Even so, the leak was not bad enough to prevent Peter and his son Erik from returning home to Canada safely, monitoring the coolant level and adding as necessary to get home with no other troubles.
Here's Peter on a practice run early Friday morning. He qualified with his Friday-best of a
14.184 ET @ 99.00 MPH
: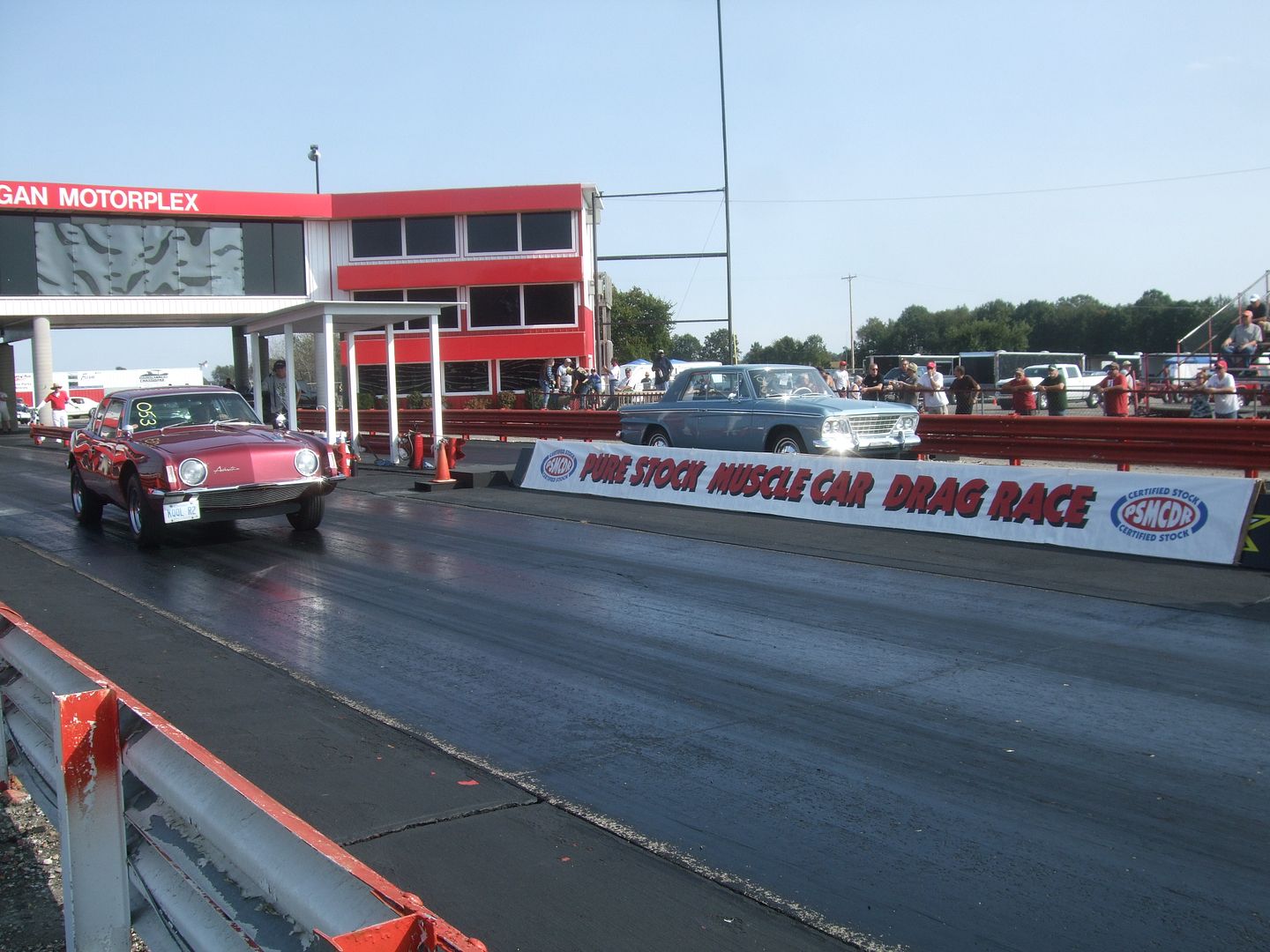 Dave Warren's
1955 Commander didn't do as well as previous years due to Dave needing to sort out his freshly-rebuilt Automatic Drive, but he still posted a best of 18.501 @ 73. 52 MPH on Friday. And after all the years of being the slowest qualifier and not having anyone with whom to compete in the shootouts, Dave finally had a competitor this year; a 1965 140HP (?) Corvair! Dave easily won his shootout against the Corvair in runs typical of this one: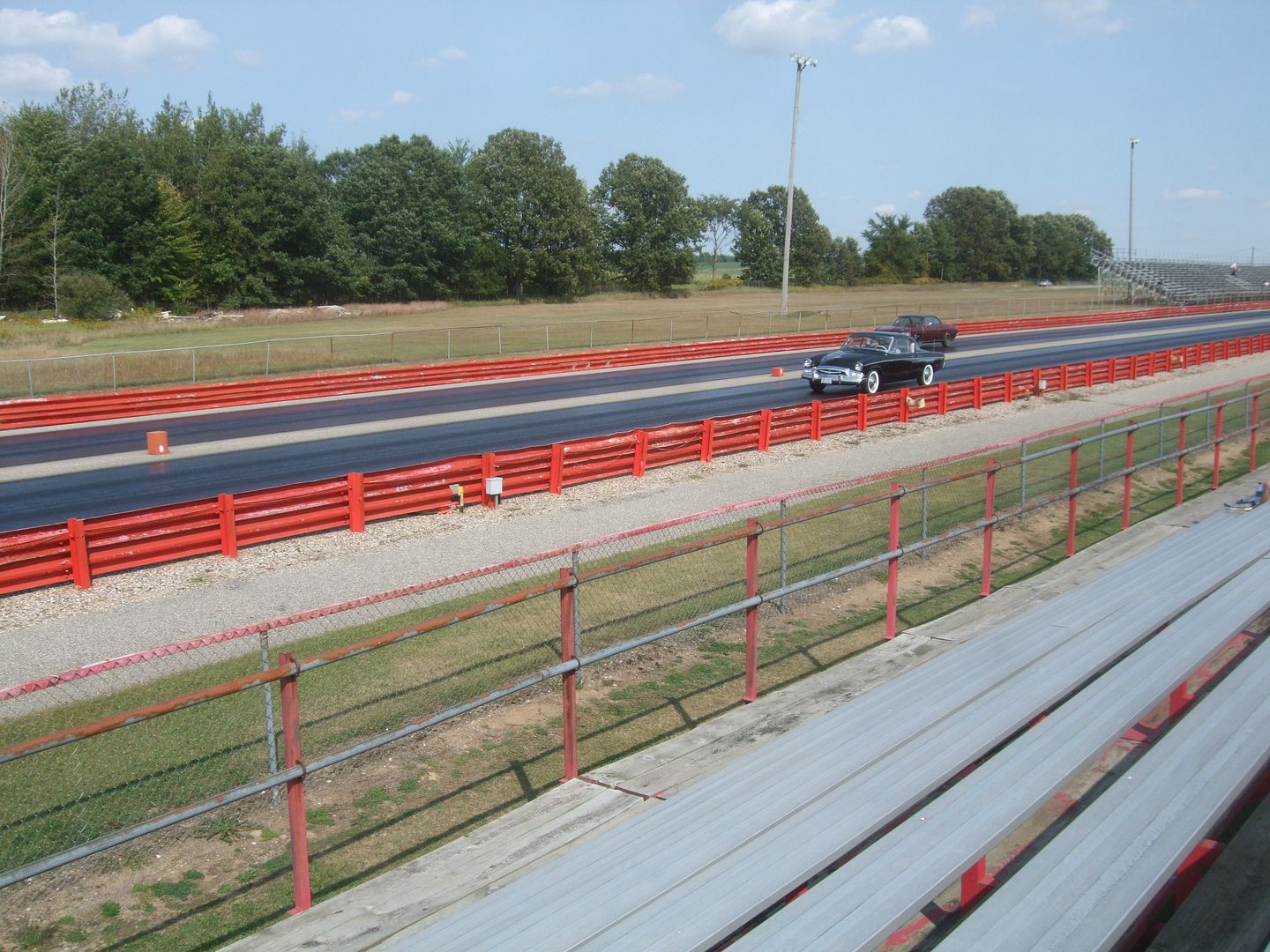 Driver
Robin Loughlin
and Pit Man [husband]
Neil
had a great year with their pretty Laguna Blue 1964 Daytona hardtop with 225 HP regular-fuel 289 and 4-speed. They drove the car to the event Friday, drove home Friday evening after qualifying, and drove it back Saturday morning. Then, they won their shootout against a 1971 Buick Skylark 350GS. Here's Robin on one of her winning runs:
More importantly, Team Loughlin was runner-up in The Grand Finale "King of the Hill" bracket challenge offered as an option for all shootout winners! Ultimately, she did not place #1 and win the whole shootin' match because she was
TOO FAST!
In the King of the Hill bracket challenge, shootout winners are bracketed according to the qualifying times, so Robin had a legal head start against all the faster cars. Technically, the faster car is released just in time that the two cars should finish in a dead heat, which almost never happens due to someone being off their game as to shifting or reaction time. In Neil Loughlin's words, here's how it went down:
We just got home and wanted to give a quick update on the bracket race.

20 cars were entered. Robin beat a 73 Firebird Formula 455 in the first round when he red lighted. 10 cars remaining. She beat a 6.6l TA in 2nd round.. 5 cars left. She beat a 70 GTO Judge in the 3rd round. He went under his qualifying time and lost. 3 cars remaining. Robin got a by run on the 4th round for her 0.163 reaction time on the previous run. 2 cars remaining (finals). She lost to a Plymouth Duster in the finals. They both ran under their qualifying times but he was closer to his than Robin was. She lost because she was too fast! He did get to the finish line before her by 0.1053 sec. Very close.

So she was the only Stude in the bracket race and made it to the final round. She was bummed she didn't win the big trophy but the last race was so close and she ran her best ET for the weekend. Too bad it was that round.

Great crowd reaction for her wins.

Thanks everyone for all the help and advice. She really appreciated it.
'Way to go, Robin and Neil.
Here's Robin against Rich Meadows' R4 Challenger on a practice run early Saturday morning. As would be expected, Rich won by a second: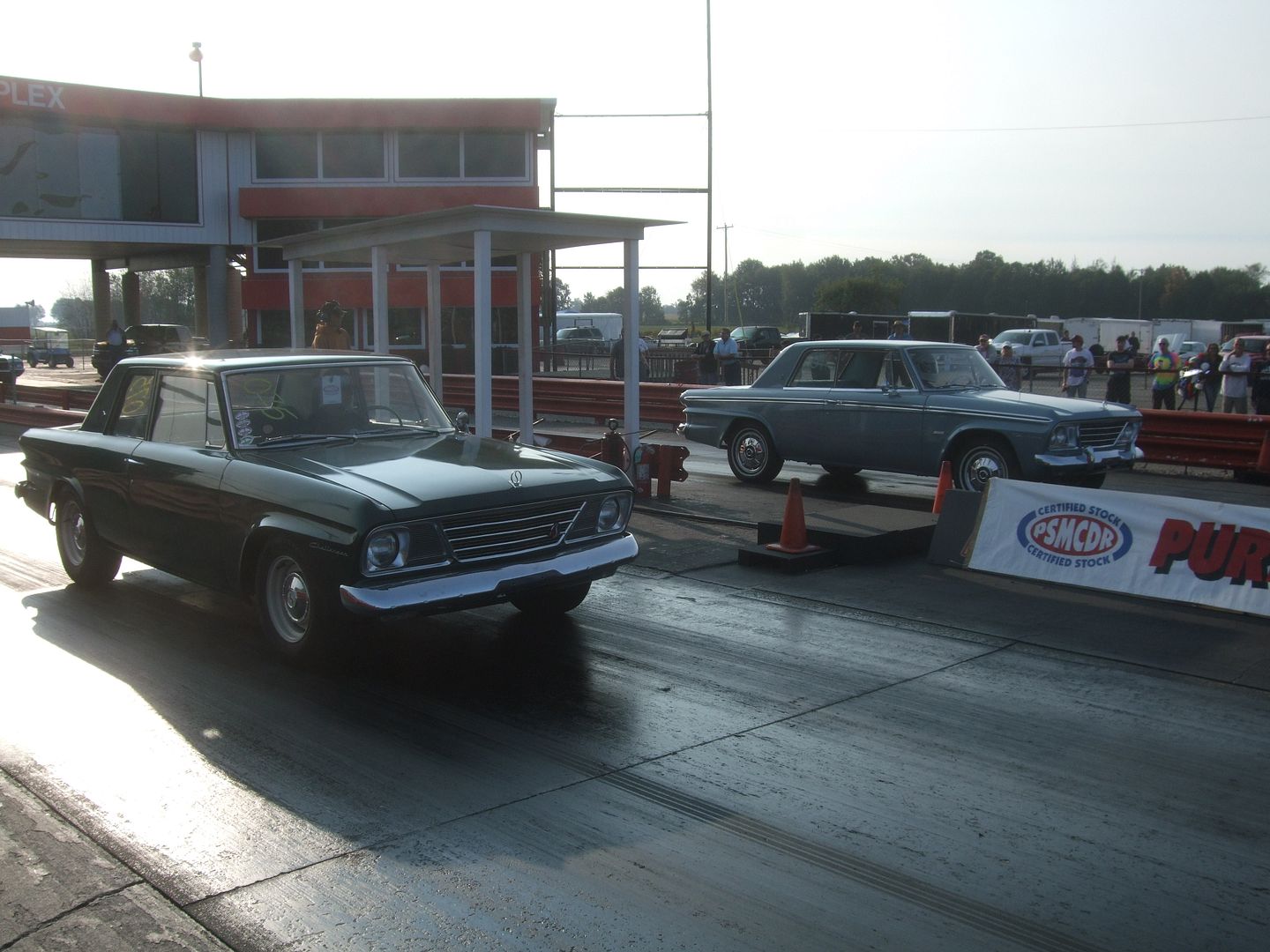 Speaking of
Rich Meadows
and his Jet Green R4 Challenger 2-door with 4-speed, he did real well this year. You may remember that he fried his clutch in the course of last year's event and was not able to compete in the shootouts. He was back this year and generally posting better times, getting down to a 14.965 ET and up to 93.41 MPH on different practice runs. Rich won his shootout in Round One because his opponent in a 1973 Pontiac Formula 455 broke out (ran 'way more than .300 under his qualifying time) in Round One. Once you break out, you're done.
Chuck
and
John Kern
were back with Chuck's white R2/Powershift Avanti. Here, Chuck lights 'em up in the burnout box. (If you know Chuck, I think he saw a pretty girl among the spectators about halfway down the track and was anxious for a better look, 'truth be known....):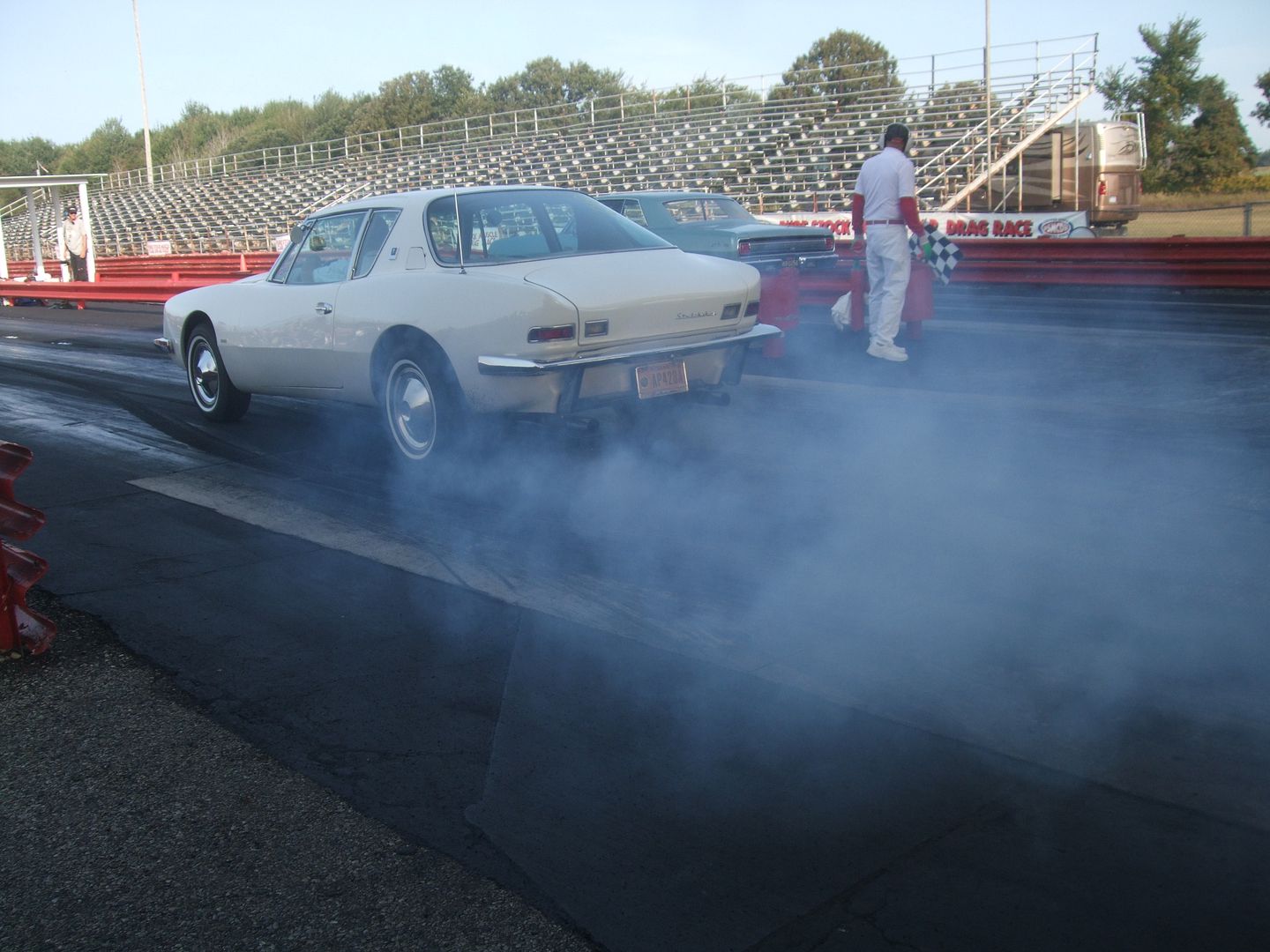 Chuck ultimately qualified with a 14.267 ET @ 98.92 MPH on Friday but bettered both those figures with a 14.067 ET @ 100.81 MPH on a practice run early Saturday morning. Sadly, he red-lighted Shootout Round One against a 1970 SS396 Malibu, so he had to win the last two shootout runs to win his shootout. Then, while staging for Round Two, his coolant overflow tank puked for some unknown reason and made a little mess at the starting line. He thus forfeited Round Two and, hence, the shootout.
Although they could have raced Round Three, Chuck thought better of it and loaded the Avanti on the trailer so he could go watch the balance of everyone else's shootout...or, more likely, patrol the stands looking for the object of his affections cited earlier...
Ted Harbit
and
The Stude Tomato
had a good year and won their shootout, but it was an intense year to say the least. First, the supercharger started making noise during Friday's practice and qualifying runs. George Krem had a spare supercharger for The Plain Brown Wrapper, but the scroll housing was of course indexed for an R3, not an R2, application. In the course of re-indexing it for The Stude Tomato, one o-ring was pinched and seeped fluid. It wasn't enough to cause a mess on the track or anything, but had to be kept full during the balance of the event, lest it fry itself.
Ted's qualifying times were a disappointing [for him] 13.691 ET @ 109.52 on different runs Friday. That paired him with an unusually-fast Duster (or Demon, I forget which) 340 for Saturday's shootouts. He won the first two rounds, winning the shootout. Here's Ted in the right lane in Round One, just a little behind before the 1/8-mile post; the taller box in the middle of the track. Of course, with Ted "only" that far behind
before
the eighth, you know what happened in the last eighth!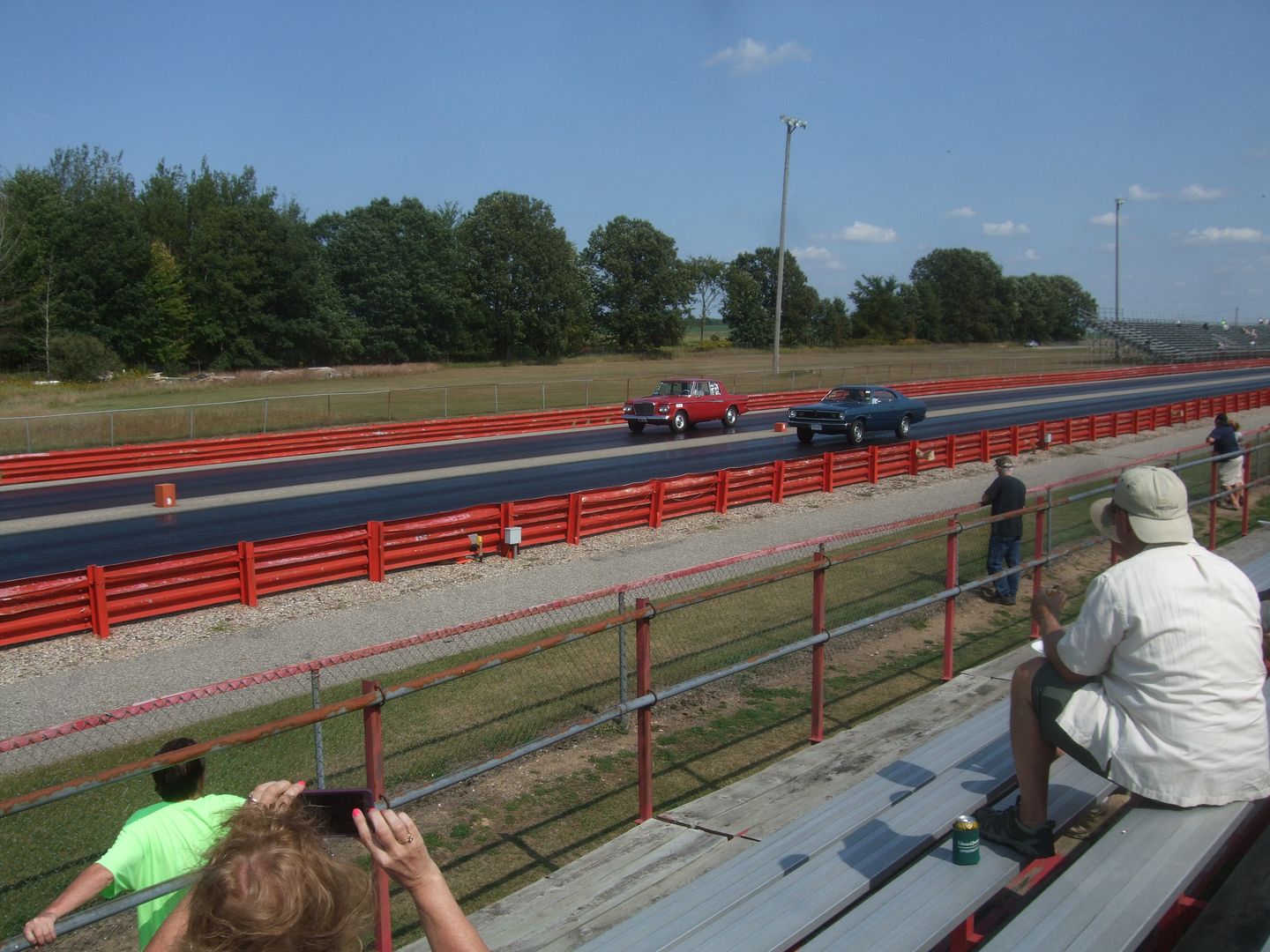 Finally,
The Plain Brown Wrapper
, which probably had its worse year ever at The Pure Stock Muscle Car Drag Race!
UGH
. No particular problems on Friday during practice and qualifying for Saturday's shootouts, but off its game just a little as to speed and ET. The best (and, thus, qualifying figures) Friday were an ET of 12. 931 @ 111.39 MPH. Both were on the same run; Run #2 of the 6 practice runs it and Ted made Friday and Saturday combined.
Here's a Practice Run Friday against a Malibu, which the 'Wrapper won by about a half-second: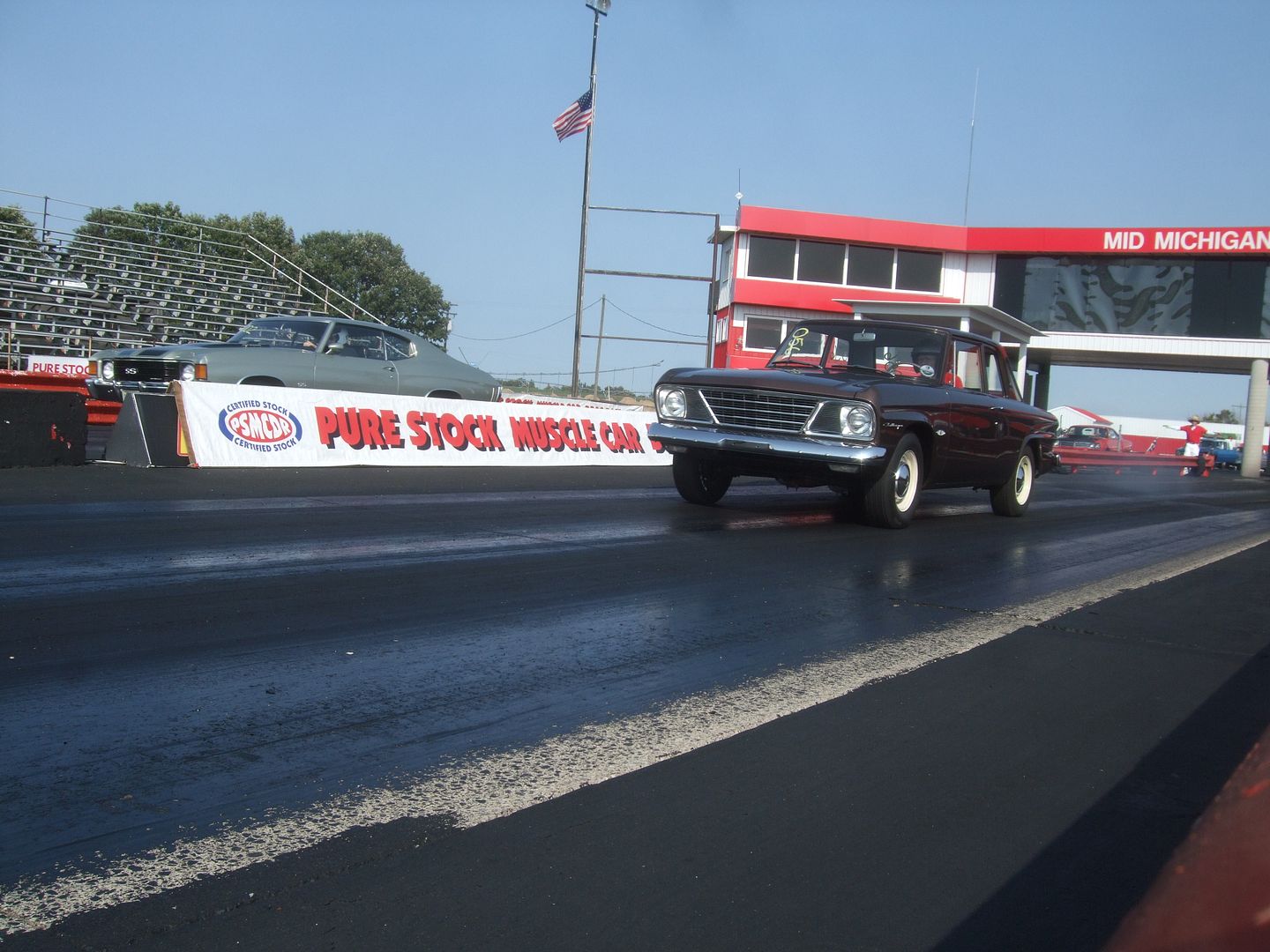 The shootouts didn't go so well. Ted red-lighted Round One, unusual for him, handing Round One to the opponent, a fast 450 HP 454 1970 Malibu SS driven by an experienced driver at the event. That meant Ted and the 'Wrapper had to win both Rounds Two and Three to win the shootout, something he's done many times. Then, at the top of third gear in Shootout Round One, the 'Wrapper's transmission decided to take a powder for fourth gear; it wouldn't go "in." So, sadly, the 'Wrapper was "one and done" this year; Ted and George were leery of exposing it to two more shootout runs with the transmission acting up.
Ironically, a post-race analysis of the transmission, running up and down the road at Ted's house the next day, seemed to indicate no trouble. So the jury is still out on what happened.
Well, as I said, we've had better years at The Pure Stock Drags...but at least nothing broke embarrassingly, the weather was perfect if a little warm, and the camaraderie was as good as ever...as it ever is when Stude folk people gather. I was in the stands wearing a Plain Brown Wrapper T-Shirt and a guy approached me and said,
"You Studebaker guys have more fun than anyone here!"
I suppose that's obvious, so here's hoping for a better next year and even more Stude folks in the stands.
"Don't touch that dial"
for more in
Turning Wheels
, and thanks for everyone's support near and far.

BP
Edited Tuesday morning, September 26, to reflect the fact that Rich Meadows' R4 Challenger WON his shootout after all. I just got the Official Results from promoter Dan Jensen this morning and learned that Rich's competitor in a 1973 Pontiac Formula 455 broke out (ran more than .300 under his qualifying time) big time in Round One, handing the Shootout Win to Rich Meadows. 'Way to go, Rich!